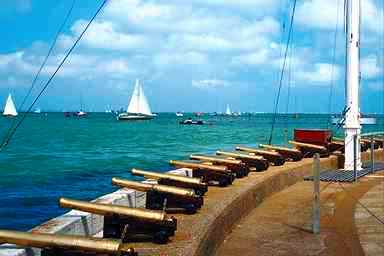 Cowes is famed around the world for yachting and in particular the first week of August sees the famous Cowes Week when hundreds of yachts and thousands of sailors arrive to race and party.

Cowes sits at the northern tip of the Island on the West side of the River Medina. The entrance to Cowes harbour is dominated by the famous Royal Yacht Squadron, housed in what was the original Cowes Castle.
Cowes High Street is now mainly a pedestrian precinct and there are many interesting shops to browse whilst wandering through the narrow streets.
West Cowes is linked to East Cowes by a chain ferry across the River Medina.
Red Funnel's
Red Jet (High Speed) service operates in Cowes and links to Southampton
For up to date sailing information look no further than
Cowes Online